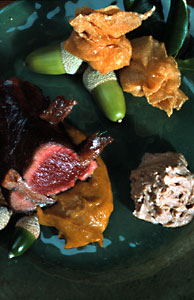 "The slight sweetness of the scallop complements the bitter piquancy of the clorophyll and the olive oil."
Scallops
Carefully remove the flesh from the shells and separate the roe from the white flesh. Any juices should be collected. Wash the mantle in plenty of water and remove the stomach. Chill.
Chlorophyllin
Chop the fresh thyme and mix the ingredients in a bowl. Refrigerate. Olives: Drain the olives and mix with the chlorophyllin. Refrigerate. Chestnuts: Peel the chestnuts with a sharp, pointed knife. Cut into wafer-thin slices using a truffle slicer. Make four equal piles. Do not chill.
To serve
Heat the virgin olive oil in a skillet. When hot, sauté the scallop flesh on the flat side. Keep warm in the grill at 60ºC / 140ºF. Warm up the chlorophyllin with the olives. Serve with the chestnuts as shown in the photo.
Recommended wine
White, Castillo De Monjardín 2000. Oak-fermented reserva, DO Navarra.